Roofcraft Roofing Services – Bolton Roofer​
Emergency Roof Repairs and Replacement Roof Specialists
01204 235712
Maureen Ramsey
16. November, 2023.
We had just decorated the bedroom and woke up to water coming through the wall, my partner Craig spoke to Dan and he was at the house within a couple of hours and had cleared all the guttering and took videos and photos to show us how blocked it was. I would have no hesitation in getting Dan to do any problems that may arise again in the future.
Chris Campbell
1. November, 2023.
I would highly recommend Roofcraft to any of my friends. I previously had another roofer who did a very poor job on my chimney stack. Dan came to look at the problem & advised the best solution to stop the water ingress entering from the chimney stack into the bedrooms. The work carried out was excellent & first class from a professional company. I was impressed with the videos & photos Deever took from start to finish showing how bad the chimney stack was to completion showing what a professional job Roofcraft had carried out. Very friendly, polite & easy to talk to. Thank you.
Garry H
29. September, 2023.
Cannot fault this Company. They did a great job, had a full roof replacement, from start to finish Competitive Quote the Quality of workmanship through to clean up. Would highly recommend them to all.
Ian Cowley
12. September, 2023.
We have just had a full roof replacement with Roofcraft and we are very happy with the work they have done. They are very reliable and kept us informed at all times. Any problems they found were dealt with quickly and efficiently. Dan and his team are very friendly and cleaned up when they had finished. We would highly recommend roofcraft for any roofing work you may need.
Mikey M
9. September, 2023.
Had a problem with my gutters which Deever and Dan were kind enough to deal with promptly and efficiently. You can be sure to receive prompt attention and quality service from Roofcraft - and all at a reasonable price. Definitely recommend.
Jennifer Newcombe
8. August, 2023.
A massive thank you to Roofcraft for the replacement roofing. Professional polite on time . Explained what i needed doing gave me a quote very reasonable would recommend Roofcraft roofing to anyone 100%, They go up and beyond to makesure its done and finished. Results are amazing Thank you so much And Deever is so polite explains alot of what i may need doing wonderful lady so a big thank you to Deever .
Roofcraft advised me on an issue I was having with my roof, did a minor repair and let me know what might need doing in the future. They were professional and straight forward, unlike one other company I won't mention.
Jodie Palmieri
6. July, 2023.
Initially contacted Deever at Roofcraft for a quote to replace chimney flashings. Most responsive and friendly of all contractors we approached for this work and very reasonable costs too. They went above and beyond to help us meet our deadline and cannot thank them enough. Will most certainly use them in future and recommend to friends and family. Thanks again to Deever and the team!
Lesa Jackson-Platt
1. June, 2023.
Good communication throughout. Friendly service, good value, good professional workmanship. Very approachable at all times. Excellent work and quality service.
Nasreen Begum
25. May, 2023.
The team did such a great job with my roof. They were very professional and exceeded my expectations. From start to finish they let me know what was going on with everything clearly explained and no unnecessary jargon. Prices were very reasonable. I spent ages trying to find the right person but wish I had just gone straight to them as it would have saved me alot of time and hassle. Would highly recommend to anyone with confidence.
A trusted Bolton Roofer, Roofcraft Roofing Services has over 40 years' experience under their belts in all manners of roofing. From flat roofs to pitched, insulation to roof repairs, you won't find better roofers anywhere in the North West.
Are you looking to get your chimney repaired from those pesky birds, or your guttering sorted after the heavy winter?
We pride our self as being a leading roofer in Bolton and the surrounding areas, our prices are yet to be beaten and we have fantastic customer feedback.
From your initial meet with our team, we give you a fantastic service to the very end of job completion. No job is too big or small.
Roofcraft Roofing Services are friendly, efficient, reliable, and honest. Your roofs are safe in our hands!
Professional Roofing Services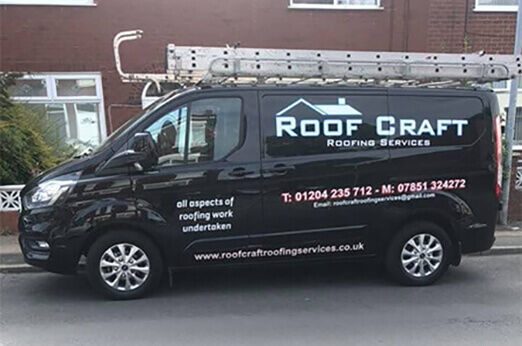 About Us
Roofcraft Roofing Services specialise in all types of roof repairs in Bolton and the surrounding areas. We have completed several full re-roof jobs over the years to the highest standard.
Over 40 years experience
Experts in roof repairs and renewals
A dedicated family team
Safe working methods
Free advice and quotes
SPEAK TO A ROOFING EXPERT
Why Choose Us?
Safe & Secure

All working areas are made safe at all times by our workers before, during and after each job

24/7 Availability

We are only a phone call away and accept emergency roof repair call outs 24 hours of the day

Affordable

We are a family run business that does not charge over the odds, our prices are affordable and are yet to be beaten
We are the leading roofers in Bolton and the surrounding areas, no job is too big or small for us.
Our workers are extremely safe during all the work taken out, we are well known for being affordable and are available 24 hours of the day for you in case of any emergency roofing work that is needed to be repaired.
Roofcraft Roofing Services are committed to always putting the customer first. Our main objective is to build long-lasting relationships with every customer, based on a strong foundation of trust and we are proud to say that a large percentage of our customers have been loyal to us for many years in and around Bolton!
We have a reputation to preserve and will stick with a project no matter how big or small the task. We keep our customers fully informed throughout each job and aim to work together toward a successful outcome. We are always a phone call away so if you have any questions please feel free to ring our friendly team on 07851 324272.
Our team are well organised and plan every job to include the finer details. We have extensive experience in all types of roofing repairs, so you can be confident that we will take care of your entire roofing project and it will fully comply with the latest regulations.
Five Star Service for all our customers
Called them up after being let down several times off other workmen, they came up gave me a free quote with no pressure to act on it. They started earlier than they said, did a brilliant job, and cleaned up after themselves. Will 100% be using them for any future jobs me or my family need. Thanks.

Verified Review
Bolton
We needed a roofing company really quickly so had to rely on trusting the 5* reviews. They were not wrong! Dan came down within 2 hours, scaffolding arrived within a couple of days, job completed earlier than anticipated. Deever was always available to give up dates and always either answered immediately or rang straight back. No issues whatsoever.

Verified Review
Horwich
Just wanted to say a great big thank you to Dan and his workforce. With the storm we have had today, they have done a great job with my roof and guttering and I felt really safe which is priceless.

Verified Review
Farnworth
Contact us today and we can give you the best rates during December 2023 for all roof repair work in Bolton and throughout Greater Manchester.
Speak to Roofcraft Roofing Services
Get in touch through the form below and we will get back to you as soon as possible.
If you need immediate contact then give us a Call and speak to one of our experts